Mobility Disruptors: Why Do German Consumers Yawn at EV Introductions?
February 6, 2019
By Dr. Tanja Schweiger and Julian Busch
Electric vehicles (EVs) continue to grow as a major element of global mobility as evidenced by the plethora of new models and technology seen at the recent auto shows in Los Angeles and Detroit, and the Consumer Electronics Show in Las Vegas. The EV product offensive is massive around the globe, Germany included. But are German consumers taking notice, and more importantly, are they ready to adopt such technology?
The most recent J.D. Power European pulse survey shows that 74% of German consumers would at least consider an electrified vehicle (hybrid, plug-in, full-electric or fuel cell) the next time they buy a new vehicle. While noteworthy, this EV consideration rate by German consumers remains unchanged from the last measurement by J.D. Power in 2017.
In contrast, 96% of Chinese consumers are ready to consider an EV as their next purchase. That's overwhelming acceptance! This universal interest in EVs reinforces the importance of the Chinese market with respect to possible electrification strategies of manufacturers.
No Consideration of Electric Vehicles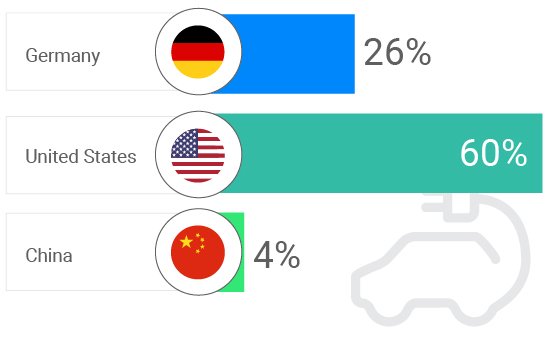 Meanwhile, in Germany twice as many women say they would not consider an EV than men (35% vs. 17%, respectively). Looking more closely, there are two reasons for this interesting gender difference. First, women say they have more second thoughts about EV safety than men (16% vs. 11%, respectively). Second, 16% of women say doubts about performance might prevent them from buying an EV, compared with 10% of men.
Age plays a factor, too. Nearly one-third of German consumers older than 60 would not consider an EV compared with only 9% of those 18-29 years old.
German consumers' main concerns for EVs are the limited driving range (73%); availability of charging stations (67%); high initial purchasing cost (64%); and the time it takes to charge an EV (60%).
Biggest Concern with an Electrified Vehicle — Germany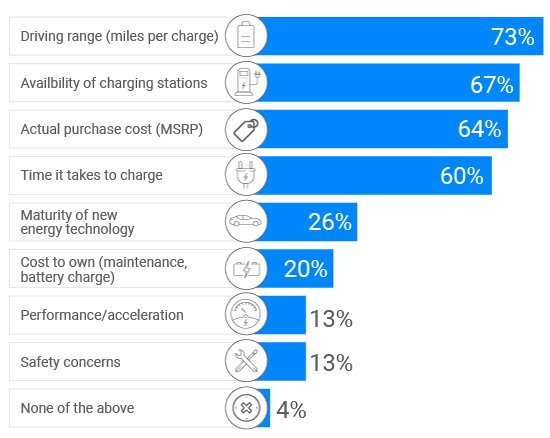 It's important to point out that 62% of respondents do not have the capability to easily charge an electric vehicle at their home. They either don't have an electric port available or they don't have a parking space. Even recent innovations regarding new charging options—charging an EV wirelessly, battery swapping at a station or battery leasing—do not seem to convince Germans of the benefits of EVs. Even with the awareness of these new charging methods, only 22% of Germans recognize these methods as key advantages.
What will it take to move the needle in Germany for EV interest?
Most German consumers are interested in EVs, but there has not been an uptick in consideration year over year. Their perspective is stagnant. And that should scare manufacturers.
What should manufacturers do to move the needle regarding interest levels and, more importantly, bring about a shift from the point of consideration to an actual purchase of an electric vehicle? What must be understood about the consumers that hasn't been understood yet?
The answers to those questions aren't easy to find. Skepticism abounds. Skeptical consumers don't buy as much as consumers who believe in a product or its mission. Vehicle manufacturers have an even bigger challenge than simply building the best electric vehicles.
As alternative modes of transport continue to create huge uncertainty for automakers and others, the need to understand how consumers want to travel now and, in the future, becomes critically important. In this fast-changing environment, J.D. Power is committed to providing automakers and other industry participants with critical consumer insights that will help them to develop a market-focused program for electrification.

Share on LinkedIn lang: en_US
To read more of the Mobility Disruptors publications, click here >
The information contained herein has been obtained by J.D. Power from sources believed to be reliable. However, because of the possibility of human or mechanical error by our sources, J.D. Power does not guarantee the accuracy, adequacy, or completeness of any information and is not responsible for any errors or omissions or for the results obtained from use of such information. 
This material is the property of J.D. Power or is licensed to J.D. Power. This material may only be reproduced, transmitted, excerpted, distributed or commingled with other information, with the express written permission of J.D. Power. The user of this material shall not edit, modify, or alter any portion. Requests for use may be submitted to information@jdpa.com. Any material quoted from this publication must be attributed to "J.D. Power Mobility Disruptors, © 2019 J.D. Power. All Rights Reserved." Advertising claims cannot be based on information published in this report.